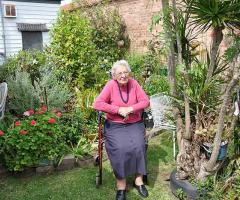 Garden Care is funded under the Commonwealth Home Support Programme (CHSP) with the aim of assisting older people to remain living independently in their own homes. You will need to access Garden Care through the My Aged Care number of 1800 200 422 or www.myagedcare.gov.au and ask to be referred to Garden Care at Canterbury City Community Centre . The My Aged Care staff can also refer you to other services in the area and arrange an assessment if needed.
CHSP services are supported by the Australian Government Department of Social Services. Visit the Department of Social Services website (www.dss.gov.au) for more information
Eligible clients may receive the Easy Care gardening service, the Garden support service, and / or the lawn mowing service. At present, our Lawn Mowing Service is at capacity and unable to accept new clients.
If you are interested in volunteering with Garden Care visit our Volunteering page.
Easy Care Gardening
Garden Care can provide an annual service to do weeding, light pruning (no ladders) and mulching. Garden Care staff will undertake an assessment of both the client needs and the requirements for the garden. Every garden is unique and we work with the resident to develop a plan for the garden. The garden care plan is re-assessed and updated each visit or as needed.
Once the initial assessment is completed Garden Care staff will make an appointment to convert the garden to low maintenance. Our teams work between 9 am and 12 noon with a small morning tea break. Each team comprises between 2 to 8 members. Garden Care supplies all tools, equipment and mulch.
The use of mulch is a fundamental part of the Easy Care gardening service. It helps prevent weed growth, holds in moisture, prevents soil erosion and adds nutrients to the soil. Before laying down the mulch and after weeding, layers of newspaper are placed on the garden bed. Download the Fact Sheet for more information about the principles of easy care gardening. 
We welcome the involvement of the resident on the gardening day - their company is appreciated. We also ask that if possible a basic morning tea /cold drink is provided for the volunteers as well as access to a toilet and hand washing facilities.
The cost of the Service per visit depends on the number of gardeners. For 1 -2 people it costs $20.00; 3 - 4 people $40.00; 5 or more people $60.00.
Garden Support Service - Consumer Directed
Garden Care can assist once a year with smaller one off jobs such as
Front Yard Facelift - Cleaning Paths, cobwebs, windows and a general tidy up of the front yard
Balcony care
Trips to the Plant Nursery to buy gardening supplies (purchased with clients money)
Kerbside Pick Up Preparation - We can move items to the front kerb ready for Council Collection
Fertiliser Application
Spraying for Pests - Organic Sprays for fruit trees, and roses, homemade remedies for common garden pests
Vegie Support
Additional Weed Spray - on top of the annual pre-spray prior to an easy care visit
Planting, re-potting, dividing or re-arranging plants in the garden
The cost of this service is $15 per hour for one staff member for a maximum of 3 hours. If you need a job done outside the above list, please ask us.
Lawn Mowing Service
Our Lawn Mowing Service is currently at capacity and not accepting new referrals.
Operated differently to the easy care gardening service, the lawn mowing service uses independent contractors plus Garden Care staff to mow the lawn up to 15 times each year at a reduced cost. As part of this service the front and rear yard will be mowed, edges will be cut, all lawn and edge clippings will be removed, and the paths will be swept/blown clear.
The Contractor will leave a receipt for the amount paid and will set the time of the next scheduled visit.
The cost varies depending on the size and slope of the block and if there are other issues such as difficult access. Our Contractors will provide Garden Care with a quote and we will talk with you about your contribution - generally 50% of the total due.