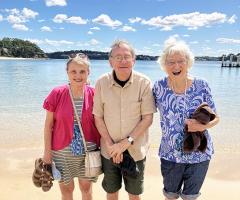 Staying connected to friends and getting out and about are important to keeping well. We offer a range of large and small groups, individual visits and telephone contact, accompanied shopping and outings to assist you enjoy each day and make and maintain friendships. We try to match you with others that share the same interests and provide door to door transport to make participating easier.
Canterbury City Community Centre offers two large groups which meet at Lakemba - the 4cs Friendship Group which meets each Thursday and the Social and Activities Group which meets on Tuesdays and has a focus on art and craft. We also have smaller groups which are formed around special interests or activities, such as a Men's Group, a Knitting Group and a Garden Lovers Group. Our Group activities offer regular outings to places of interest or somewhere different to share a meal.
Our Volunteers can also call in for a visit and a chat in your home, and can visit residents in Aged Care facilities under the Community Visitors Scheme. Individual support is available to accompany you while you go shopping or run errands, or to maintain contact over the phone if getting out has become difficult.
If you have an interest or a hobby we can try to link you in with others that share the same interest or provide transport to help you get there.
Many of our social activities include door to door transport and light refreshments. 
Referrals tor the Canterbury City Community Centre Social Inclusion and Wellness Service can be made via My Aged Care on 1800 200 422 or www.myagedcare.gov.au